---
Overview:
Set in a Dystopian Sci-Fi future, CyberSin : Red Ice follows the story of Elsa Morganth, daughter of the chairman of one of the largest megacorporations in control of the world.
After a mysterious accident, Elsa finds herself indicted for a crime she didn't commit.
Thrown under the slimy belly of society, with scarce resources, she will have to find a way out of it, while at the same time trying to find the real culprit so as to regain her old life.
v0.05a
* Bugfixes *
- Countless denoised images (Improved Quality).
- Rework of the Ambrosia aesthetics.
- Added and fixed some variables.
- Fixed some bugs in Tony's CODEX page.
- Now the "Secluded Alley" near Ambrosia is explorable only after meeting Tony at the clinic.
- Fix on Isaiah's store, which was giving a bug when purchasing fuel under some conditions.
- Rework of some scenes' pictures.
- Fixed the code for Isaiah's first event, more functional and polished.
- The randomized work events have now proper sound effects when earning Credits.
- Patch03 with some variable fixes.
- Removed "Timed Choices" from the game.
- Fixed a bug, invalid syntax, that was present in Izy's dialog.
- Fixed typos in previous dialogues.
- Dominance points for Izy were added in some of the choices.
- Now choosing to keep the security cameras in the shower (Izy's dialogue options) will make Red/Elsa interested in Izy (prone to future romance options).
* New Content *
- Added "To-Do List" in the Journal. Every time you feel lost about what to do, you can check it out.
- Added "Street Tony" encounter in the secluded alley near The Ambrosia.
- Street Tony dialogue tree with many different variables.
- A new erotic scene with Street Tony (in case you decide to seduce him for the mask).
- First BAD ENDING that will trigger if you fail to recharge the clinic's generators with fuel.
- General improvements for the CODEX (you have now a button to hide Characters from the Prologue and Clinic companions, such as Izy and Ice, will also have a Status to show their relationship).
- 4 new CODEX pages (3 New characters and 1 Faction).
- Faith Event - New recruitable companion (if you want to save her). To activate this event you need to reach at least 5 Reputation and reach at least day 16.
- Three new story scenes (all tied to the Faith Event).
- Two new songs in the soundtrack.
- Two new banter events will happen after recruiting Faith.
- Now certain dialogue pink choices will have the sign (*ROMANCE*). Picking these choices will lead you on a path to begin a relationship with a specific character.
- New dialogue options for Ice and Izy.
- New dialogue tree for Faith.
- New option to start a romance with Izy (in his dialogue, with at least 125 points of relationship if you aren't already interested in him) and Faith (during one of her new events). It's just the first stages, but more to come in the future.
- Updated CODEX pages with new info that will be unlocked via the new dialogues.
- You can now play until day 23.
---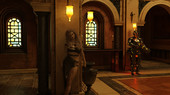 ---