---
Info: Cloud Meadow is a hybrid farming sim dungeon crawler, where the player can choose the solitude of a quiet sky high farm or the rushing adrenaline of a raging battle inside abandoned ruins, both of which benefit one another.
Experience thrilling turn based combat versus a variety of enemies, using your own raised monsters, allies and an array of skills.
Changes
Changed fertilize action to work like seed action, opening inventory for selection when no fertilizer is selected
Updated game to create an autosave before descending dungeon floors, regardless of time since last save
Fixes
Fixed Giev not charging the shard price shown in dialog
Fixed fertilizer levels not decaying
Fixed fertilize action not updating when selected fertilizer changed
Players who managed to arrive at the Abandoned Mines without a quest to do so will now be able to continue progress
Adjusted a pillar on savannah 6 to prevent player being able to get stuck behind it
Fixed issue where player could walk away from chest opening animation, preventing them from gaining the contents if they triggered an encounter before animation completed
Fixed some typos
Addressed issue with loading a save on the farm/cloverton when other characters were still in the party
Fixed an issue with a lamia sex scene using the wrong palettes
Fixed weather predictions to account for season changesAlready predicted weather is converted to a clear day if invalid for the season it's predicted in
Fixed a house floating off the island near the bridge to the player's farm, in Cloverton
Camellia's dialogue was previously missing from Savannah 6 Stonebreaker sequence
Additions
Added new content to the Hallow Haunt Event
Added a new NPC with a sprite sex scene
Added a dungeon modifier that changes enemies in the dungeon, and give them a unique item drop, which is used to unlock the new NPC
Added a unique weather that happens during the duration of the event
Added new music that plays for the duration of the event
Added new worn equipment, and food items that are only obtainable through the event.
Changes
Reduced the value of monster byproducts
Reduced the value of Milk, and milk products
Rebalanced all food prices based on the changes to Milk, made them round to the nearest Fifth.
Reduced the value of eggs
Jaero and Birma stock now increases with Farm size, so with a max size farm Jaero will sell 200 seeds instead of 25, and Birma will sell 240 bread instead of 30
Changed a lot of the light & weather environments
Calendar now shows the current weather and information about it in the side panel
Fixes
Fixed an exception being thrown when holding both mouse buttons on a draggable ally.
Fixed a Z-Sorting issue with Jerikan's stand.
Fixed a variety of typos and dialogue inconsistencies.
Fixed bringing Camellia in the centaur cave sequence causing an exception
Improved handling of saves that cannot be loaded.
Some very dark dungeon rooms should now be brighter at night
Fixes
Fixed not being able to leave the upgraded incubator building
Updated HallowHaunt PomPom to better indicate it has to be used in your bedroom
Fixed a bug where it was possible to hatch an egg before Jubelle was ready for related tutorial event.
Restored player light aura while in Tro's Lab
Some minor improvements to weather fx during certain camera motions
Fixed teleport locations in Tro's Lab
Fixed a location where player could get stuck on Savannah 7
---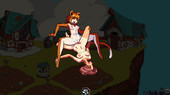 ---