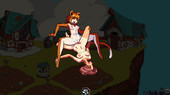 ---
Info: Cloud Meadow is a hybrid farming sim dungeon crawler, where the player can choose the solitude of a quiet sky high farm or the rushing adrenaline of a raging battle inside abandoned ruins, both of which benefit one another.
Experience thrilling turn based combat versus a variety of enemies, using your own raised monsters, allies and an array of skills.
Additions
Added Eve X Garst
Changes
Converted the savannah dungeon to the new system of generation
Fixes
Fixed a bug when coming back from combat in the dungeon
First launch of our new rapid release schedule, releasing new HDs as and when they become available and new features when they get finished. We'll be doing a hotfix or two, and then focus on pushing out adding Parts 2 and 3 of Arc 1 before the end of the first week in February with any luck.
Additions
Added Eve X Garst
Changes
Converted the savannah dungeon to the new system of generation
Fixes
Fixed a bug when coming back from combat in the dungeon