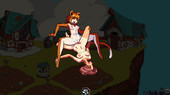 ---
Info: Cloud Meadow is a hybrid farming sim dungeon crawler, where the player can choose the solitude of a quiet sky high farm or the rushing adrenaline of a raging battle inside abandoned ruins, both of which benefit one another.
Experience thrilling turn based combat versus a variety of enemies, using your own raised monsters, allies and an array of skills.
Hotfix: Beta v0.0.1.4c
Tomorrow is going to be the last day of hotfixing for bugs, there'll be another hotfix later in the month with more of the palletswaps enabled. The reasoning is that we have a few major refactors in the works, some of these bugs are going to stop existing in the near future, or be made irrelevant. Tonight Ursa and Kodex will be going through the remaining bugs, as well as anything new added to the bug list tonight, and from there they'll decide which bugs are absolutely critical to fix, and which ones will be put on the backburner and double checked when the refactors are done.
Saves are compatible.*
Fixes
Fixed jiggly plants.
Fixed floating pixels
Fixed the monster name being too unreadable
Fixed several issues with HD scenes
Fixed a dungeon tile having it's events not spawn in the correct location
Fixed some issues with the jump pads in the dungeons
Fixed some dialogue for going to and from Katerina Station for clarity.
Fixed the dungeon mine entrance being a little wonky looking.
Fixed being able to cook without energy.
Fixed Crab scenes not unlocking in Album.
Fixed a bug with the HP counters in combat.
Fixed the cat rock reappearing
Potentially fixed the other barns barn sign not working.