---
Overview:
The protagonist of my game is Manila Shaw, a policewoman who is respectful of the rules and very good at her job. She always has money problems and has struggling to pay the house rent. A Manila's police action in a convenience store will attract a mysterious man's attention to her and this will change her life, throwing her into a world of corruption and deception...
I've completed Manila Shaw: Blackmail's Obsession v0.30.
You are about to play "Sunday".
Warning:
- Keep your old saves.
- "Guard" (skill) is very important. It reduces damage during the round and gives +10 MP and +10 TP.
- Remember to equip Manila. Check her equipment (Equip).
- Remember that the inventory is shared with all outfits. If you want to transfer equipment from one Manila to another, you have to put it in the inventory and then equip it ("Optimize" and "Clear" can be useful).
- You can show / hide the Arrows Map (indicators to change map).
Press on the keyboard:
(PageUP = Show Arrows Map; PageDOWN = Hide Arrows Map)
- You can hide the dialogs if you press CTRL (ON / OFF).
- Press "Space" = the car and the movement of the NPCs becomes faster.
- Press "W" = you can skip the dialogues.
----------------------------------------------------------------------
- I modified the pregnancy for the progress of the story. I advise you to keep the latest saves (0.29) for future updates (for any bugs)!
- There will be a musical note icon in Manila's house. Get it before playing the casino event!
- The pregnancy was reduced for the plot. From the next update, Manila will no longer play pregnant, but she will skip that phase. It lasts 3 days (normal) and you will only see the baby bump when you have to go to give birth on day 0. The "Preggo One" item can be used to make pregnancy last only 1 day.
- Beach II (Messages, Smartphone);
This quest triggers all other quests in the update if you have made the required choices.
The following quests can be triggered in this quest: "Splash War" and "Nudist".
- Splash War (Daily Quest);
It triggers if you have a love story with Jason.
In this quest, the quest "Legend" will automatically trigger.
- Nudist (Daily Quest);
This quest triggers if you have a love story with Michael or if you pressed the blue choice in the convenience store at the beginning of the game (I'll think about it). It's necessary to have a high level of Corruption or you can use "Nightfall".
- Legend (Daily Quest);
This scene changes based on the Corruption or Justice value.
- Casino (Event);
It isn't a quest. You'll find a new (repeatable) event in the pole dance menu.
- The Champion (Daily Quest) ------> Work in progress!
- Repeatable scenes of Mr. Forger, Mr. Ghellar, and Mason ------> Work in progress!
----------------------------------------------------------------------
- Animations x 8 (Not Pregnant)
- Pregnant Manila (baby bump) will only have one scene in this update (no animation)
----------------------------------------------------------------------
---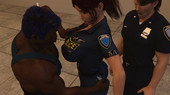 ---