---
Overview:
You're engaged to the love of your life, Tiffany. You live with your Mom and Sister (who are blood related, not some step bullshit). Tiff has taken a keen interest in a new club at school, the BNWO (black new world order). Their world views are very aligned with her own. Tiff is a very special girl and there is no one better to go on an adventure with into this brave new world.
Chapter 1 - It begins
Chapter 2 - Adventuring in the BNWO. Tags are updated to reflect new content. *DONT* view them unless you want spoilers.
Chapter 3 - You can now start directly at chapter 3 and use the route selector to play both routes
Chapter 4 - The tags are updated to reflect new content. View them if you care.
---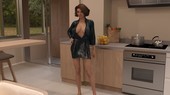 ---